We provide a complete therapeutic approach encompassing care, clinical and education services which meet the specific needs of each child.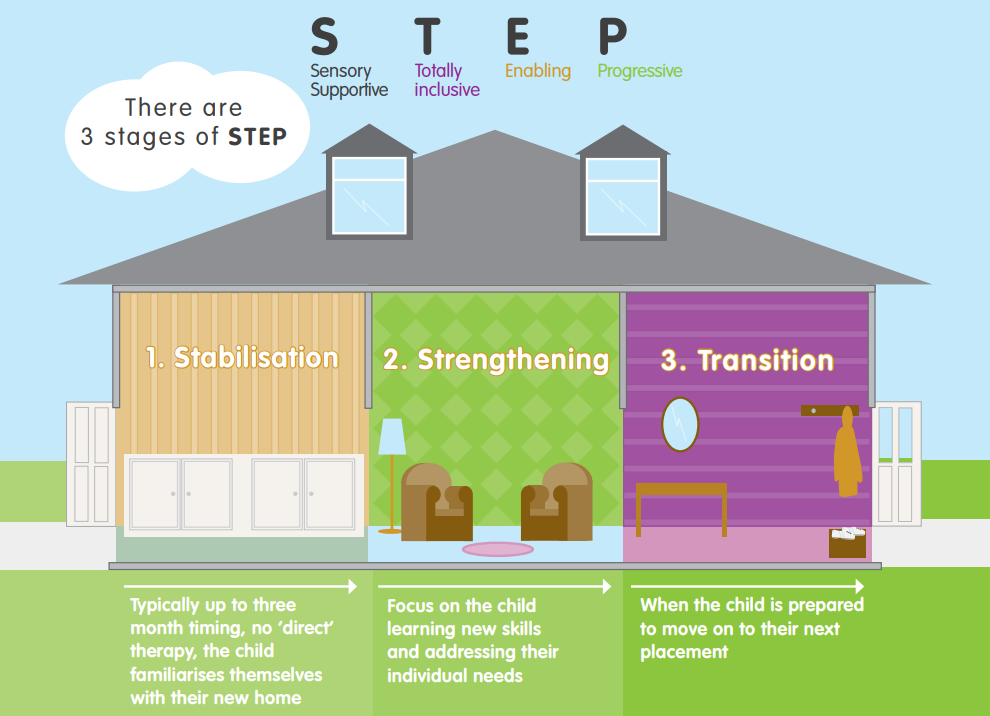 (Click to enlarge)
All of the work carried out in this service is based on a therapeutic approach known as the STEP Framework (this framework aims to be Sensory Supportive, Totally Inclusive and Enabling to facilitate personal positive Progression).
The STEP framework recognises and encompasses 4 key domains: Social, Educational, Emotional and Psychological, within three specific phases that each child will go through.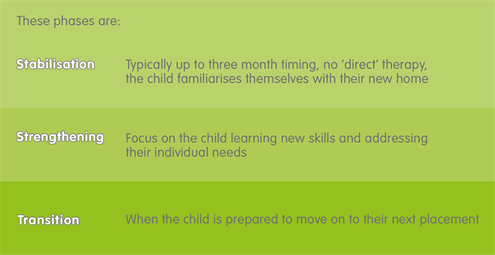 Working closely with our clinical team, we provide direct and indirect input for our children according to their individual needs. The clinical team typically include; a lead Clinical Psychologist, Art Therapist/Mental Health Practitioner, Life Story Practitioner and Assistant Psychologist. There is also access to a Health Practitioner and Occupational Therapist.
The team offer consultations, fortnightly TAC (Team Around the Child) meetings, bespoke training and indirect and direct therapy. They will provide a 3 month clinical assessment and then monthly progress data and reports for LAC reviews to help children with the transition to their next successful placement.
The progress of all of our children is measured using CAP (Cambian Assessment of Progress) and collected in a monthly progress report which tracks progress across 4 domains: education, social and life skills, general health and emotional and psychological well-being.
Our Care and Clinical teams work closely with our education colleagues to ensure that each child has a joined up care and education plan to support their progress.
Our staff team are diverse in their beliefs, religions and cultural background and each bring something different to support our children, providing an accepting and welcoming envionment for all. It is recognised that a child's ethnicity, religion, culture, sexuality and language are crucial to their image and self esteem. The children are fully supported to develop their self identity.
All staff are trained to be therapeutic parents, and receive on-going high quality training in:
• Therapeutic Parenting (PACE, DDP and Play)
• Complex Trauma
• Understanding mental health (Dissociation, Self-harm and Separation and loss)
• Reflective practice
• Emotional regulation
• Assessing risk
• Child development
• Inappropriate/Problematic Sexual Behaviours (Lack of understanding of appropriate touch, lack of understanding of healthy relationships with adults and peers, lack of understanding of consent)
See how we implement the STEP Framework by clicking here.
If you would like some advice or more information on our services and what we can do for you, email us here, or call 0161 507 3723 to discuss a referral in confidence.