We would like to thank everyone for their support in ensuring that our young people were present for the unveiling of the New Jubilee Mural in Town.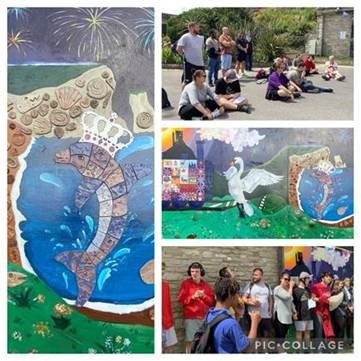 Nicola Sheppard, Head of Education at Purbeck View School had the below to say about the event:
"I was so impressed on how many of our students were able to participate. It was special to see Purbeck View students alongside other Swanage school children as it emphasised our place in our local community. Our contribution was the dolphin and I love it, it is stunning. I'm hoping to get some postcards made of our dolphin and send it to parents as I know it's something which will make them smile too.
It is great to see our students at a public event in which they were thanked and praised for their work. They also brought a whole lot of joy to the proceedings, with their enthusiastic countdown! A special thanks to Keeley for organising this and for the visiting artist and all the workshops to bring this wonderful piece of art to life, it's a great result.
If you missed the event, please pop down and enjoy the mural on the seafront."