Alex has lived at Clearbury for six years now and has achieved so much in his time here with us.
Alex arrived to Clearbury having experienced some challenges in life with social anxiety and mental health problems. Since living at Clearbury Alex has been supported to attend college and build on his confidence and independent living skills. Alex has always had the potential to do amazing things, he just needed some support in getting there. He is a bright, clever young man, who has a very promising future.
Alex completed college in December 2021, after attending a work experience pathway plan course. Since then we have been supporting Alex in looking for voluntary work, or more opportunities for work experience.
One of our team suggested a hotel in Torquay, that has a costa coffee shop located inside. We supported Alex in approaching the hotel and asking if he could do some work experience with them. As part of his college course, Alex had worked in a hotel and was keen to broaden his skills in this area. The hotel liked the idea of this and offered him three days a week work experience in the coffee shop. Clearbury staff have been attending work with Alex to support this transition, however he has managed so well to communicate, with phone, text and writing on paper – we really haven't needed to do much! In the few weeks he has been there, there have already been discussions about paid summer work for him!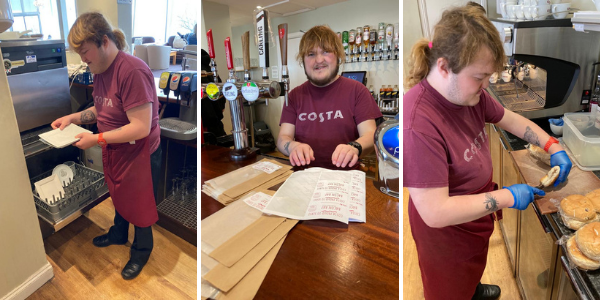 Well done Alex we are super proud of you!