On Wednesday 25th May we hosted a coffee morning to support our English Teacher in her bid to walk 26 miles in the Lakes district for MacMillan Cancer Support on 18th June 2022.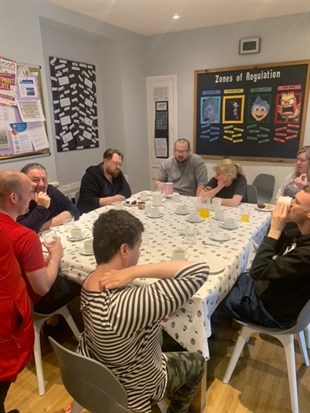 This is a message from our wonderful Teacher, Bryony:
"I just wanted to say a HUGE thanks for your super generous donations of both bakes and money to help my cake sale be a big success. I organised a cake sale to raise money for Macmillan Cancer Care as I'm doing a 26 mile walk on June 18th and £250 has to be raised. Thanks to Paula, Amy, Steve, Kirsty and others we had a HUGE range of cakes, bakes and biscuits on sale. It was lovely to have Shap Road residents at Windermere Road and it was a great, bubbly atmosphere as well as being lovely to have visitors who enjoyed sitting down to a cuppa and a cake! Currently the total stands at £120 which is incredible and now means that, in total, I have raised about £150 towards my £250 goal! Thanks so much everyone - this really does illustrate what a generous and kind bunch you all are!
THANK YOU ALL SO MUCH! And big thanks to Whinfell staff and students who helped me set up and tidy away, I wouldn't have managed it without you."