At Hill House we work collaboratively with a number of teacher training programmes in Southampton and regularly host trainee teachers, offering opportunities for them to complete an enhanced placement at the school. On 13th May, Hill House hosted 8 budding trainees as part of a creative day for their course.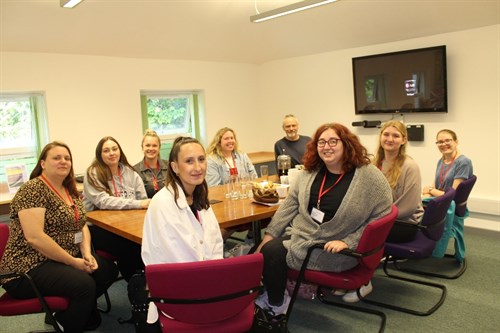 The theme for the morning was `Music Therapy` and the aim of the session was to enable the group to find out more about music therapy and how they could use music with children in specialist settings. Owain Clarke, our music therapist at Hill House hosted the morning and provided a creative insight into music therapy and how it is used to support young people at Hill House.
Our young people gain so much from their music therapy sessions where there is a chance for some valuable interaction with music and an opportunity to explore and express themselves, all in a kind, nurturing and therapeutic way.
Everyone enjoyed the session and it was lovely to be able to share this work with the trainees and hopefully they will now feel more confident about using music within their own classrooms soon!