This week we were proud to celebrate the whopping 30 Year Service Anniversary of our Interim Principal, Eva Pereira. This momentous event happened on the 29th of March 2023 which coincided nicely with Eva's first Governance Meeting as Interim Principal.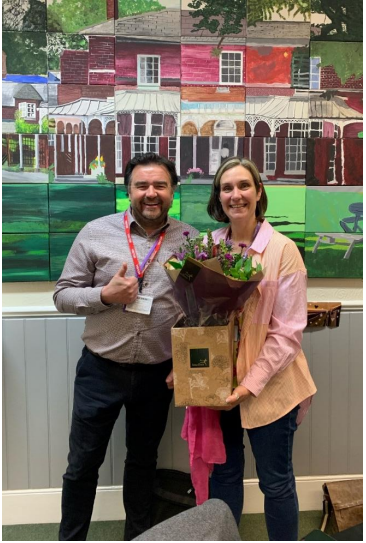 During her career with Cambian / Caretech Eva has held many roles, starting as a Support Worker at Hill House School. She has always maintained one consistent theme during her career, that being a passion for the betterment of the lives of the young people we support, and she has put her all into every single day, of every single one of those 30 years, with great success and evident results along the way.
Eva can often be heard talking in metaphors about jigsaw puzzles and relating the efforts from those working together in care and education to individual pieces of puzzle. It is these pieces that make such a positive difference to the lives of those we support. She has certainly been an important piece of the Grateley House School puzzle and one whose efforts will be remembered by all she has worked with.
There is actually another consistent theme worth mentioning that has not diminished or dwindled even slightly, during this long 30-year stint. That is her unique sense of humour, it is part of Eva that none of us would change, and certainly has a huge impact on the morale and enjoyment of the team she supports.
Thank you and congratulations on behalf of all at GHS and beyond who you have worked with. Here's to many, many more years of service.