On 27th - 29th September this term, four Ofsted inspectors landed at the school to see how the school had progressed since the last inspection.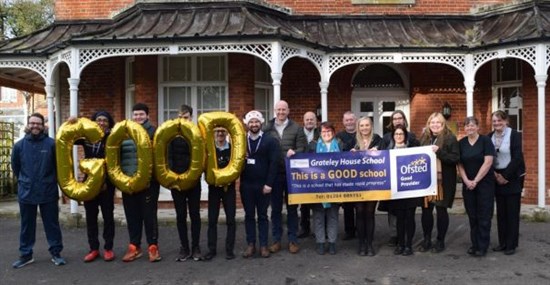 They were interested to hear from students and staff about how they felt about the school now, and how much progress students were making in their subjects.
Education inspectors commented that 'this is a school that has made rapid progress, with the pupils themselves playing their part'. They further commented that 'this is a good and improving school. Many significant changes have been made since the last inspection'.
When inspecting our curriculum, they recognised that 'pupils feel it meets their needs well' and that the curriculum had been transformed over the last two years. Pupils have the opportunity to learn a wide curriculum, that prepares them for adulthood through a well-planned sixth form.
Inspectors commented that 'personal development of pupils is a strength of the school'. We are pleased that inspectors agreed with our vision and values, that placing as much importance on pupil's personal and social development as their academic progress, will truly prepare them for life in modern Britain.
Care inspectors commented that 'children enjoy a broad range of activities', some of which are documented within our newsletters. Furthermore, they noted that 'parents confirmed that the school is continuing to improve. One parent described the school as 'an atmosphere of transparency and it feels more of a family working together'.
Inspectors noted that 'children always have someone available to talk to' and this is done through a wide range of supportive strategies.
We as leaders, want to thank the whole school community for their contributions to school during the inspection, and more importantly every day at Grateley House School. The leadership team is committed to embedding good practice across all areas of the school and will continue to work hard to ensure continued progress towards outstanding.
The GREAT is back in Grateley House School!