Next Friday, 30th September we are pleased to share that we will be holding a Virtual London Marathon in the school grounds.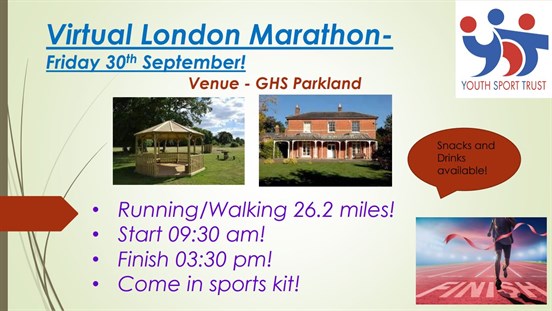 Two of our students have been working extremely hard to organise this sporting event as part of their Level 2 Diploma in Sports and we are all looking forward to a great day!
The aim of this event is to have as many participants (runners or walkers) as possible. We are hoping that between all of us we can reach the milestone distance of a Marathon (26.2 miles/42.2 k). The start time is at 9.30am, just after assembly, enabling us to all run a communal lap together!
We will also be raising some money for Youth Sport Trust UK - a charity that empower and try to facilitate young people the access to physical activity.
See the link below to our Justgiving page HERE. Any contributions will be greatly appreciated!