England vs North Macedonia.
On the 19th of June Paul, Lee, Jayden and Rob attended the England vs North Macedonia game at Old Trafford.  
The boys were awarded this as a treat for their excellent behaviour in school. To say they were excited was an understatement. This was their first ever England game and for Jayden his first ever professional football game! The excitement was high and this was before they had even ate any sweets.
The day started out with a journey to Manchester with a stop via Wetherby services for a coffee and a pasty from Greggs. Some good little student teacher bonding done over a steak bake!
Once belly's had been filled (and staff fuelled with coffee) we set off to Manchester to soak up the atmosphere of the game. Upon arrival we parked up and took the short walk across to old Trafford where the outside of the ground was already starting to fill up and the atmosphere was building. This set the tone for the lads and you could see their excitement.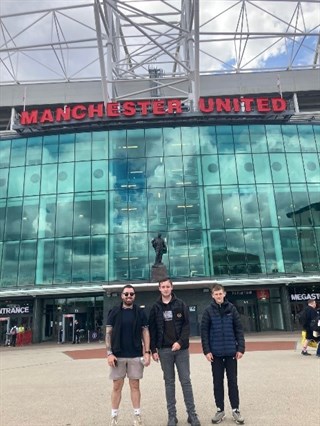 Off we went following Pauls expert navigation skills, from his time following might Hartlepool around the country, although this time it took us straight to a taxi rank as the town centre was an hours walk, and the boys did not fancy that.
Once in the town centre we headed straight for the centre point where fans from North Macedonia and England had been having a sing off. Rob and Jayden loved soaking up the atmosphere and it certainly got them excited to get into the ground. A few more hours spent around Manchester browsing shops, buying milkshakes, snacks and eating pizza and it was time for everyone to head to the ground.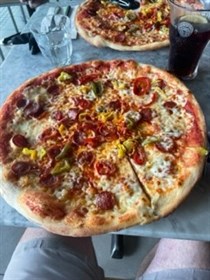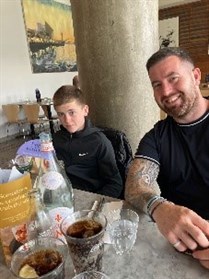 After a tram ride back to Old Trafford and walk across to the ground, the streets where filled with England and North Macedonia fans, you could barely see any of the street due to red and white shirts.
The mood was definitely set now. Warm up watched, discussions on who will score and what the score will be had taken place, programs purchased, seats found, refreshments bought and we were ready! Fast forward to kick off and it was a slow start, until the first goal went in, then it was like the floodgates opened.
By half time it was 3-0, by full time it was 7-0, the lads never stopped smiling throughout the full game (apart from when Lee celebrated, sang and cheered at every player's name in the team announcement and Jayden got embarrassed), and for once they actually sat in their seat without being told to not swing on it, or to sit still like they have to be in school. If only this could happen every day right?!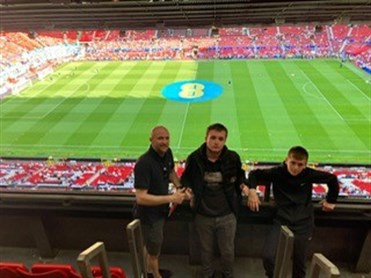 Memories made for the lads, their first professional football game, watching their own country play at Old Trafford, one of the best stadiums in the country, and see the team score 7 goals. If only Marks Spencers made memories to cherish, I think this one will stay with the lads forever.
Question now is…… where and who next?! Talk of a Wembley trip have already took place.