As part of 'Anti–Bullying' week (16th-20th November 2020) our young people at Hill House School have been taking part in a whole range of different activities, learning about bullying, as well as promoting kindness and respect.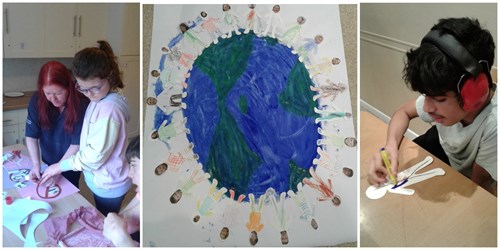 The students have also been learning how to be a good friend and bring kindness to others. They created 'friendship buckets', which individuals were encouraged to fill throughout the week. Everyone made a list of kind gestures which included different things they can do for one another. Throughout the week everyone put their ideas into the bucket and practiced being kind to each other. These gestures included making someone else a drink, opening the door for them, sharing a game and more.
The story of 'Have you filled a bucket today?' was also explored and acted out. Stories have played a big part in the week with another story called 'Be a friend'  becoming a firm favourite of the group.
Our young people made plenty of friendship bracelets, as well as designing and wearing special socks! Some young people helped to make a giant globe with pictures of all their friends to learn about being together.
It has been a great week full of practical and sensory activities that have really embraced the message of anti-bullying and the importance of friendship.