Expressive Arts Day
Trip to Roche Court Arts Centre and harp recital
Conditions were perfect to spend a day in the glorious grounds of Roche Court. On arrival we were warmly welcomed by Emma and Holly, the two artists facilitating the workshop, who gave us a brief outline of how the day would uncurl, the sculptures we would be observing and the multi-sensory resources we would be able to access.  We were the only visitors there so the young people were able to relax in the knowledge that the space was ours for as long as we wanted to stay.  After a welcoming song in the circle, with tactile props and fabrics, we were on the hunt for the first of 3 sculptures, and on finding the first one we sat down on the grass and were encouraged to paint what we saw with broccoli florets and followed this with a sensory game involving parachutes and imagination……
The second sculpture inspired music to bounce to on giant exercise balls, then we played the part of a marching band and drummed around the sculpture building to a crescendo before relaxing on the grass, looking at pictures in the clouds, or covering ourselves with dark fabrics and reading by torchlight.
The third sculpture was inspired by bees and we experimented with making the sound of our own swarm, using tubes and foil; we smelled beeswax and tasted honey and looked at the sky through yellow gels.
The day was rounded off with a plenary in the form of a collage, taking inspiration from the materials we had explored throughout the day, and reminding ourselves of what we had seen, heard, smelled and tasted.
The facilitators were incredibly receptive to our young people, always sensitive to the different needs of the group, and flexible in terms of what was required to stay regulated and had impressive communication skills.
A truly special day!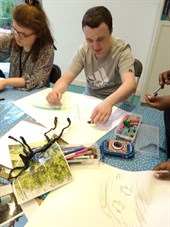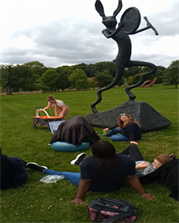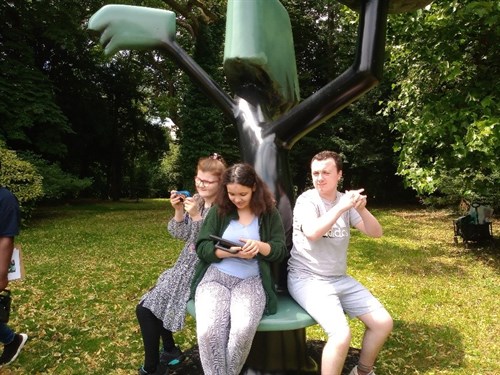 Back at HHS a special harp recital took place in the hall. Soothing sounds enabled young people to sit back and relax and have some mindful moments. There was also an opportunity to play the harp and many were eager to create their own tunes. A really lovely experience.