On Friday 4th November 2022, students who are studying art at GCSE and A level, attended the 'Monster Mash', an exhibition of abstract street art inspired works by King's Lynn artist Sarah the Scarer.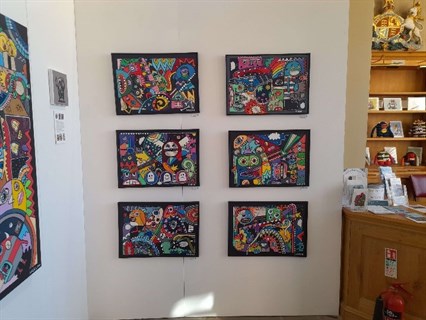 The exhibition was set in King's Lynn's Custom House a listed local monument located by the Great River Ouse. Students walked along the Quay experiencing part of the fishing fleet, complete with a fishy smell that some were not so keen on!
Once inside students were greeted by and introduced to Sarah who spoke briefly before students explored the various Monster themed works. The artworks themselves were at least 40 by 60cm's in size, many much larger, and consumed the students in a colourful and playful world of arrows, faces, eyes, cats and so many other items it's impossible to list them all.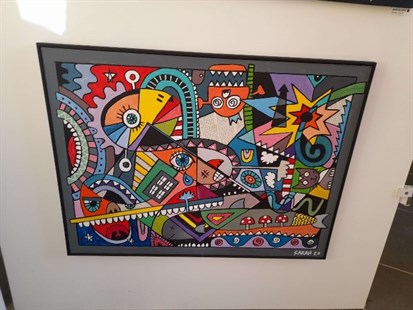 After a period to take in the works, Sarah graciously answered a number of questions which had been pre written by two GCSE students. Sarah answered the questions honestly and openly, sharing information about how long an artwork takes her, her use of emotions as inspiration and why she never designs tattoo's for anyone, despite being asked often.
Very impressive was the behaviour of all students who asked before either touching or taking photos of the works, which Sarah agreed to, although she said many artists would not be keen on this, so good to ask. Finally Students signed and left comments in the guest book for the exhibition, a common practice at art shows and a chance to feedback to the artist, something that the students themselves do as part of their courses.