Student Josh Kemp, has been completing weekend work experience as a teaching assistant at Little Kickers Liverpool.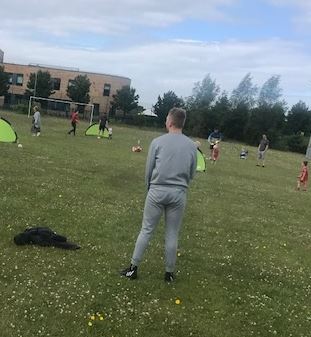 Josh would like to do something with sport or football and has been supported for his careers and placement through GA Career Links. He has been attending every Saturday at the Litherland site and settled in really well. Josh has been doing such a great job that he was asked to return each week to support the class with a possible job on the cards for him in the summer.


Little Kickers started in the UK in 2002 and was set up by Christine Stanschus. At the time she was living in London and spotted a gap in the market when trying to find pre-school football classes for her son. Child obesity was becoming a hot topic and Christine couldn't believe there weren't pre-school classes to get young children involved in and enjoying sport, so she decided to do it herself.

It was a recipe for success, with Christine focusing on building a brand around "fun first" making sure she worked with experts in child development as well as FA qualified football coaches. Together they created programmes that would deliver high quality football skills, combined with important pre-school learning concepts such as colour and number recognition, sharing, following instructions and using imagination.

With a network of 2,250 coaches and over 300 franchises in 32 countries, they are now the world's biggest and most successful pre-school football academy and there's plenty more to come. 
Well Done Josh! We are so proud of your achivements and it is lovely to see you having such a great time, whilst learning new skills.