Today we celebrated the Queen's Platinum Jubilee by having a traditional Tea Party.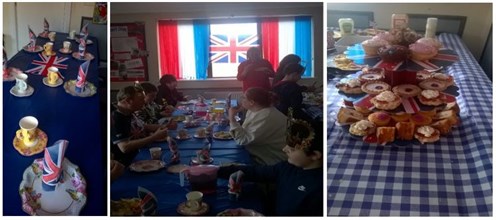 Students and staff enjoyed a vast selection of tasty treats including a range of sandwiches, trifle, cream scones and cakes. The Queen's favourite sandwich, jam pennies, were served, as she has loved this sandwich ever since she was a child and still insists on having it with afternoon tea. The British tradition is so great; the Queen just had to put her own stamp on it and makes sure this sandwich is served at every event she attends.
Traditional teacups and saucers were used as well as three-tier cake stands. Plenty of bunting was used to decorate everywhere and some of the students even wore crowns for the occasion!
At the end of the party, everyone gave her majesty three cheers. We all thoroughly enjoyed ourselves and celebrated the Queens Platinum Jubilee in style!