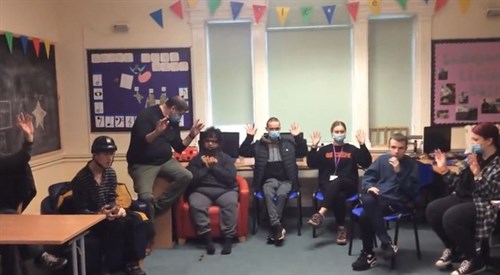 We have been holding group Makaton sessions at Pengwern College for both students and staff, to encourage additional forms of communication for our young people. Makaton is a language programme that uses signs together with speech and symbols and is practiced with individuals who may find difficulty communicating.
In these sessions we model functional Makaton signs that can be applied to everyday life, we are currently learning every day greetings.   These sessions are proving successful and are thoroughly enjoyed by all involved.
Students have presented their learning through many forms, with one of our students choosing to sign Makaton along to songs in front of their peers and teachers which was an incredibly proud moment for us all.
Something the students really enjoyed last year was being involved in the creation of a number of videos for our Facebook page, where the students showcased their talents with a Christmas Countdown, learning how to sign words such as; Reindeer, Santa, Christmas Tree and much more!
'Well Done' to all our staff and students, keep up the good work.