With the Queens Platinum Jubilee just around the corner, our young people have been learning about Her Majesty the Queen.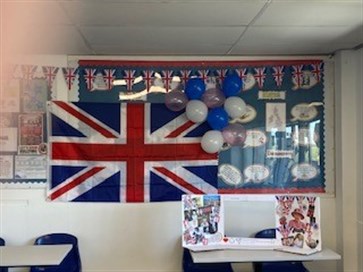 Her Majesty the Queen will celebrate 70 Years' service to the people of the United Kingdom, the Realms and the Commonwealth. Her Majesty the Queen is the First British Monarch to celebrate a Platinum Jubilee.
To Celebrate our students have created two photo collages, using photos they have found whilst researching the Queen in her younger days, along with images of her with her late husband Prince Philip, the royal guards, the royal mail stamp and of course the Queens first pet Corgi "Susan".


And to keep their display modern and relevant to the times, they also created a photo bored similar to a social network site used by them with relevant Hashtags to the school and the Jubilee.