On Monday 11th July, three School Councillors were elected by their peers to represent them and their views. The Student Council gives our young people the opportunity to foster skills such as leadership skills, teamwork, organisation and public speaking.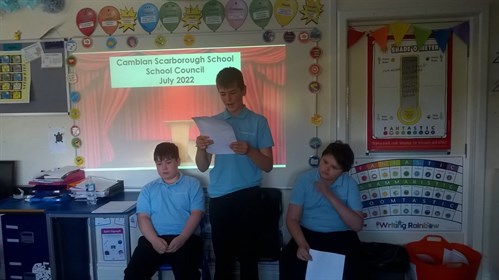 We were very proud of our candidates who spoke clearly and confidently in delivering their speech in front of the whole school:
Our first student candidate said: 'I am soon to be glorious leader. If you want change, vote for my party! Firstly I am very intelligent and I'm passionate. I would like to see more outdoor lessons and activities. They are really fun, they teach us important life skills. I think there could be more things to do at break - not everyone likes pool or being outside in the play area. Students should be productive. I'm extremely cool, I will always listen to your ideas. I will fight for you rights. I am not afraid to stand up for you. Thank you for listening to me. I'm looking forward to serving you.'
Our second speaker said: 'Good morning, I think I should be elected because I listen to peoples' thoughts and ideas.  I have been at this school for a long time; I really care about the school, pupils and staff. I will try to the best of my ability to make things happen for you and our school. If you vote for me for School Councillor, I will always make sure your voice is heard and try my best to make everyone happy.'
Our final candidate said: 'Hi I'm in Year 8 moving on to Year 9. If I am elected I think we should add a farm to the school. This will mean we can do a lesson where we can take care of the animals. This will give us a chance to learn about being responsible for others. I also think we should get Tablets or IPads so we can do lessons on them and they can help us with our work. If I become your Councillor, I will make this school a better place. I will ensure that there is always three choices for the Gold award so we can decide what to do. If you vote for me as School Councillor I promise to be always there to stand up for you and help you.'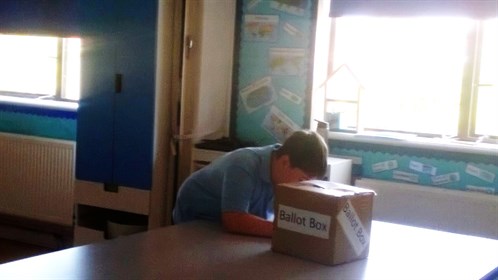 The democratic process is a great lesson for pupils to learn, they learn that by voting they are participating in the democratic process to choose the leader they want to represent them and their ideas.