As part of their work on Poetry, students at Scarborough School had a visit from Nick Toczec, a poet, writer, musician, magician and puppeteer. Nick has written hundred of poems and sold almost a million copies of his books. He has performed all over the world and has written for many different magazines.
Nick spent the morning with different groups of students, reading his poetry and giving pupils an insight into what inspired him to write them. He gave the students some tips on writing their own poems, including using names from books in their library, to using the alphabet to come up with rhyming words to tell a story. He also gave them some short story ideas and shared some tips on how to write a story using only six words; which is not as easy as you might think!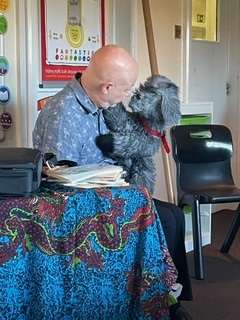 Nick then entertained the students with his magic tricks and introduced them to his best friend Humphrey the Camel, who had a very disgusting habit and a very naughty dog!
The students also received some of Nick's books which he kindly signed for the school, so that they can continue to enjoy his amazing poetry and encourage the pleasure of reading.