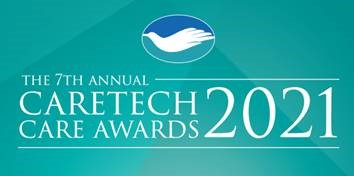 We are thrilled to announce that the 7th Annual CareTech Care Awards have now launched! This is always a very special date in the CareTech calendar and nominations are now open for you to spotlight the work of your exceptional colleagues and the ways they have upheld the CareTech Values every single day over the past year.
Due to the continued uncertainty regarding Covid restrictions they are pleased to announce that they will be hosting this year's awards as a virtual event! Holding the Awards virtually gives them the opportunity to share the evening with everyone and make this year's ceremony a truly inclusive way of celebrating the exceptional winners from across the whole of the CareTech Group.
*Further information on how to access and watch the event will follow in due course and they thank you for your patience.*
Please read your Entry Packs and Category Descriptions carefully to ensure you provide Caretech with all the information they require to choose this year's winners. As always, the nominations are open to all staff employed across the CareTech Group. You can also download the Entry Pack on their website here: https://bit.ly/33aJmVB
Closing Date for nominations is Monday 5th July; please email your nominations to awards@caretech-uk.com or post your entries to their Head Office in Potters Bar.