Last month, Rachel (pictured below) took part in an Erasmus+ RespectACTION Youth Exchange placement with The Chatterbox project, part of YMCA Bournemouth.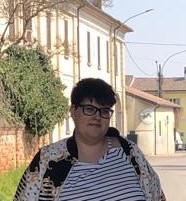 RespectACTION delivers new opportunities to young people in Europe through informal learning; young people are able to connect with others to explore their shared European identity vision. 
Rachel travelled with three other Chatterbox members to Italy, where they stayed in a town called Spessa, Pavia. Rachel met other young people from Spain, Germany, France, and Italy, and together they explored topics such as Inclusion, Diversity, the Environment and what it means to be a European citizen.
The 'Chatterboxes' stayed at Associazione Culturale Artemista; a non-profit cultural association that focuses on social projects and environmental awareness education. Each day, young people delivered activities, workshops, and training to raise awareness. Rachel helped to lead a three-hour workshop around disability awareness and acceptance; topics included Autism awareness, Equality and Diversity, Celebrating Differences, and Individuality.
The workshop was a great success, some feedback below:
"Wow! What an amazing workshop – thank you for sharing your personal stories with us".
"Your workshop was fun, interactive and has taught me so much about disability awareness".
"Your personal stories were my highlight, thank you for sharing them with us".
Comments from Laura Busby - Chatterbox Project Worker (YMCA Bournemouth)
"It was an enriching opportunity for Chatterbox members. Since coming home, they have been able to share their experiences and continue to develop their skills further in peer-to-peer support and youth leadership roles. It was a wonderful experience that supported their development, skillset, and personal goals – Well done everyone!".
Rachel received a youth pass for her contribution to the youth exchange and over 12 AQA accreditations relating to group work, presentation skills, cultural awareness and more. Rachel's next steps with the Chatterbox project will be to train as a peer mentor!