Scarborough staff and students had to face their fears when they were visited by Anya from Zoolab UK who provided a fun and educational animal workshop for them. It certainly was all creatures great and small as they learnt about various creepy crawlies and reptiles.
Their first encounter was with a large cockroach named Humphrey. While many of the staff and students were initially apprehensive about holding him, the vast majority found that he was similar to a scaly hamster and actually quite cute. They learnt that cockroaches were alive with the dinosaurs and that Humphrey could survive a fall from a great height!

There was a sigh of relief when they found that they weren't allowed to handle the Chilean Rose Tarantula. Despite her being very beautiful, she was also very delicate so they could only see her through the tank.
Anya also brought us her giant snail called Gary, her tortoise Shelley and the beautiful royal python called Prince. Prince seemed to enjoy the attention at first but the excitement might have got a bit too much for him as he started to curl himself in knots!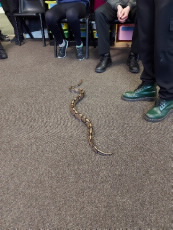 Everyone enjoyed the unique experience and staff were very proud of all the pupils who participated and had the courage to be in the same room as these interesting and amazing creatures!